Kutija za zvučnu izolaciju DECIBEL AL-R®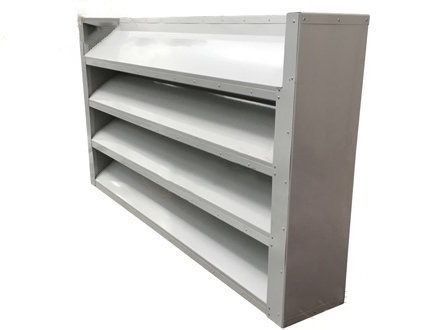 Vazdušna buka
Najprodavaniji
Prilagodljivo
Zagarantovani rezultati
Unutrašnja upotreba
Napravljeno u EU
Spoljašnja upotreba
Zvučna izolacija
Vodootporno
Otporno na vremenske uslove
Akustične žaluzine Model AL-300-R® i AL-600-R® su jednostruki sistem za smanjenje zvuka. Žaluzine su napravljene od čeličnih limova, ispunjenih materijalom koji apsorbuje zvuk i jednostranog poklopca perforiranim limom. Ovaj model meša dobre zvučne performanse i aerodinamičke karakteristike. Model DECIBEL AL-R® razlikuje se od standardnih zvučno izolovanih žaluzina DECIBEL AL® 300 i DECIBEL AL® 600 svojim aerodinamičnim oblikom žaluzina. Ovaj oblik žaluzina doprinosi boljem protoku vazduha.
Standardne veličine kutije su 600x1000x1000 ili 300x1000x1000. To olakšava ugradnju atenuatora na fasade koje se otvaraju ili vise na metalnu konstrukciju nosača. Takođe se mogu čuvati kao samostalni prigušivači zidova ekrana. DECIBEL AL-300-R® i AL-600-R® se uglavnom koriste u mašinskoj sali, ventilacionim otvorima, prostorijama generatora energije, kotlarnicama, rashladnim tornjevima ili bilo kom drugom industrijskom ili HVAC sistemu.
Žaluzine po meri mogu se proizvesti od aluminijuma (perforirani lim je pocinkovani čelik).
DECIBEL AL-R® zvučno-izolacione žaluzine dizajnirane su za situacije u kojima moraju velike količine vazduha prolaze kroz rešetku i gde je prostor za ugradnju ograničen. To uključuje kućišta, napajanja i sisteme za hlađenje / grejanje.
Postoje dve standardne veličine DECIBEL AL-R® zvučno izolacionih roletni (300 i 600), svaka sa svojim svojstvima u pogledu zvučne izolacije, dubine ugradnje i zapremine vazduha. DECIBEL AL-R® se takođe može proizvesti u nestandardnim veličinama.
Standardne dimenzije DECIBEL AL-R ®

300 х 1000 х 1000 mm.;
600 х 1000 х 1000 mm.;

(Nestandardne dimenzije su dosupne na zahtev)

Materijal:

Galvaniziran čelik;
Perforiran lim;
Akustičen materijal koj apsorbira zvuk;
Aluminium

Završna obrada i boja:

u RAL-u

Svojstva :

Otporan na kišu i sneg

Mala dubina ugradnje

Lako se instalira

Instalacija :

Direktnim pričvršćivanjem vijcima ili na ugradnom okviru;
Specifičnosti instalacije određene su tehničkim karakteristikama projekta.
Performanse DECIBEL AL-R®
Aerodinamičke performanse DECIBEL AL-300-R®
Statički pad pritiska (N / m2)
1,7
6,6
15,0
27,0
41,3
59,9
81,7
106,7
Brzina lica (m / s)
0,5
1
1,5
2
2,5
3
3,5
4
Akustične performanse DECIBEL AL-300-R®
Srednja frekvencija oktavnog opsega (Hz)
63
125
250
500
1000
2000
4000
8000
Gubitak u prenosu (dB)
5
6
9
10
13
10
8
7
Aerodinamičke performanse DECIBEL AL-600-R®
Statički pad pritiska (N / m2)
2,2
8,7
22,6
40,1
63,8
92,1
121,5
163,2
Brzina lica (m / s)
0,5
1
1,5
2
2,5
3
3,5
4
Akustične performanse DECIBEL AL-600-R®
Srednja frekvencija oktavnog opsega (Hz)
63
125
250
500
1000
2000
4000
8000
Gubitak u prenosu (dB)
6
9
13
17
23
19
16
15
Preuzmite